Reduce Exposure to Borrowers
Demo
COMPREHENSIVE. CONSISTENT. COMPLIANT.
Mortgage rules and regulations continue to change, but the risk still remains with you - the lender. Although you can't eliminate the liability, you can reduce your exposure to borrower misinterpretation, deliver uniform messaging throughout your company and be prepared with specifics for your auditors. Be protected with VidVerify's comprehensive videos that streamline the loan process by:
Increasing transparency in the lending transaction
Offering full disclosure to borrowers that's easy to understand
Educating borrowers on all the relevant terms, language and paperwork
Recording a digital signature that verifies what clients have watched
Navigating ever-changing compliance requirements
VIDVERIFY'S
INNOVATIVE
VIDEOS

Reduce risk for you and your borrower

Lower the chance of misunderstanding and miscommunication

Better educate your borrowers and monitor their activity through the process

Free up your loan officers to do what they do best – originate loans
GET OUT IN FRONT OF RULES AND REGULATIONS
VidVerify's brandable, pre-recorded video library is instantly delivered so customers receive comprehensive, consistent, compliant explanations. Lenders can also record their own message for a personal touch. Through our proprietary process, your compliance officer will be able to approve each video before anyone sees it, making sure every message is on point.
AVOID THE "HE SAID, SHE SAID"
You need to know that headquarters, branches and all affiliated employees are presenting parallel information to your borrowers. VidVerify uses comprehensive, consistent and compliant messaging, ensuring borrowers hear the same thing. You'll also have verification that the borrower received and viewed the information.
Reduce Exposure to Borrowers
Compliance
Educate Your Borrowers
Consistent
Compliant Information
All VidVerify video scripts are reviewed by Strategic Compliance Partners to ensure compliance with all Federal and State guidelines. Strategic Compliance Partners (SCP) is a leader in mortgage compliance consulting, offering mortgage banks, mortgage brokers, warehouse banks, depositories and other financial institutions, full-service outsourced, attorney-driven, compliance management, all at a fixed price.
SCP navigates the ever-changing world of regulatory mortgage compliance by providing best in class service, supported by innovative technologies, and top flight legal and compliance practitioners all at a highly affordable and efficient price.
For more information go to www.strategiccompliancepartners.com
or email info@strategiccompliancepartners.com
Managing Contacts
VidVerify users have an accurate and comprehensive snapshot of a borrower's history. Users can track interaction between borrowers and loan officers. VidVerify enables the lender to know when videos are viewed and what has been triggered and sent to the borrower. VidVerify makes it is easy to add new borrowers, edit information to existing accounts, import user lists and integrate with existing systems.

Sample Borrowers Page :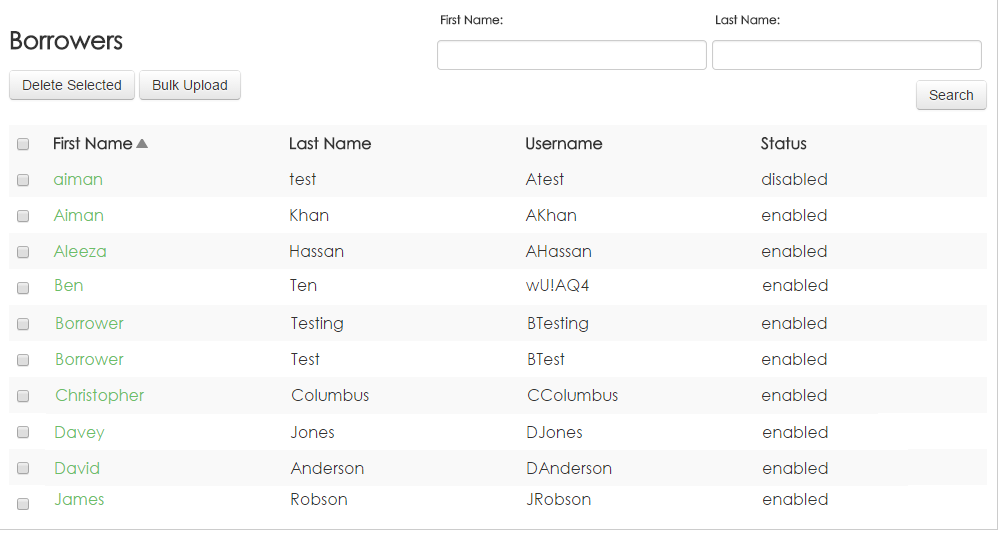 Store unlimited contacts
Loan officers and related personnel can have accurate and comprehensive views of a customer including full contact details, customer history with the bank or a specific property, and interactions. It is easy to add new members, edit existing ones, and import user lists.

View Demo :
Share Content
Sharing of real time content with borrowers may uncover misinterpretations earlier in the process and allow more time for selling. Lenders can also improve relationships and collaboration with borrowers through automated and real time distribution of videos and mortgage documents.This will also enhance compliance efforts and build trust with the customer, a cornerstone of enduring relationships.

Demo video of Fixed Rate Loan:
Reports and analytics
Have access to reports detailing the usage of the system.See where your customers spend their viewing time and what is important through reports and show you their top videos, total videos viewed, to borrower and loan officer activity. Information can be shared in real-time with export functionality for audits and invoicing.

Graph of top 10 viewed videos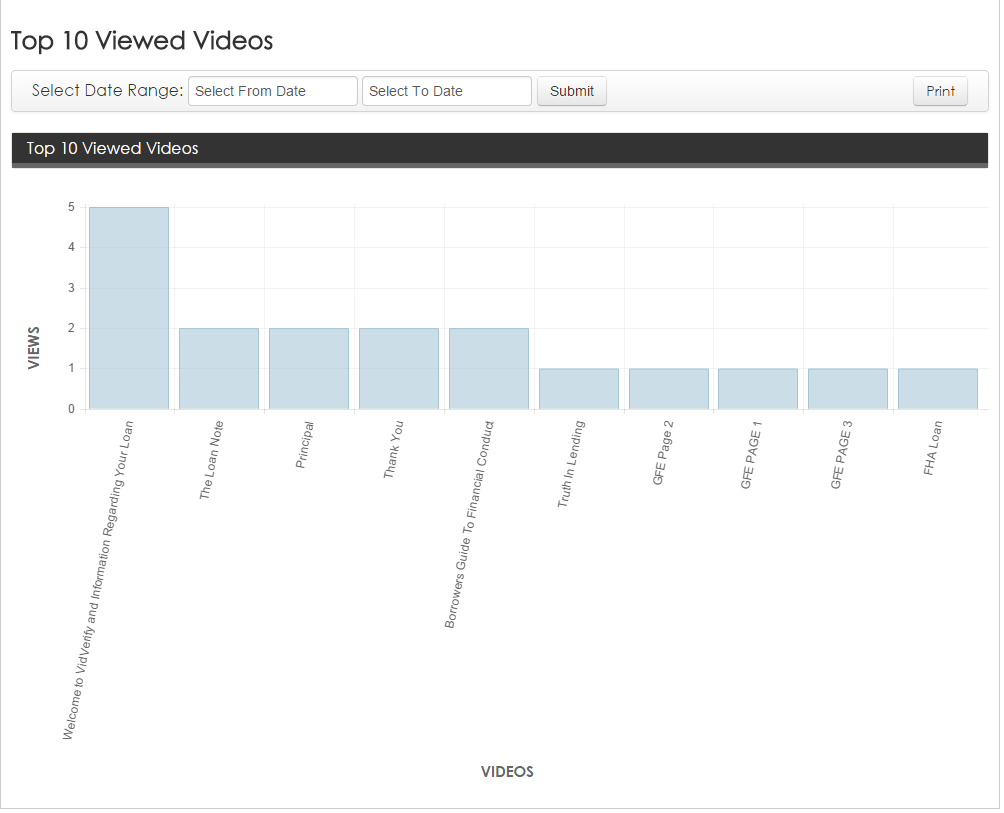 Mobile access
Even when outside the office or travelling, you and your borrowers can stay connected to the full capabilities of VidVerify Mortgage via your mobile device. Maintain anytime, anywhere connectivity to stay in touch with your borrowers. Continue to share content and milestone updates, preserve an ongoing customer interaction while speeding up the mortgage closing process.